October 12-15, 2023
Jett Adventure by Dream Vacations presents:
JettSetters Pickleball Clinics, Round Robin and Vacation to Sandpiper Bay Resort, Port St Lucie, (Florida's Only all-inclusive)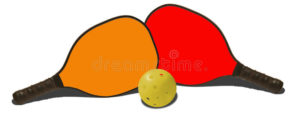 Did you know that the anticipation of a trip can contribute meaningfully to your positive
mental health? What a blessing during this time to say,"YES"to an opportunity that will
be invigorating yet relaxing, challenging yet fun! Bond with other like-minded travelers who have this common goal and raise a toast together at the end of each fun-filled day!
Join us for 4 amazing days in an all-inclusive resort with pickleball clinics, open play, round robin and organized cocktail parties and events!
$125 nonrefundable deposit due now to hold your spot; will be releasing rooms on 6/18
Final payment due September 1st
Open to all levels
What's included:
3 night accommodations at all-inclusive Sandpiper Bay Resort for 2 adults in Superior room
All food, drinks, taxes, resort fee and many onsite activities as described on their website
Pickleball Package (5-8 Reserved daily pickleball courts, cocktail reception, awards dinner, reserved courts, clinics and optional private lessons.
All meals starting after 4pm check-in and until lunch around noon on departure day
Pickleball small group clinic instruction
Many on-site activities as described in detail on their website
Included Gastronomy -3 Bars –
Restaurants -Marketplace – the main restaurant with views of the St. Lucie River and open for every meal.
Book your reservation by completing the "Registration Request Form" and indicate in comments section the if you want king or twin beds, if both play pickleball, and if you want to extend before or after. Rooms are only double occupany and singles pay full price.
Contact travel specialist Desiree Jett for any questions at djett@dreamvacations.com (214) 893-7342. All reservations will be made through her for this group and she can answer all travel questions.

Reservation Request Form
Schedule of Events:
Thursday – Arrivals
10 – 3pm: Resort EARLY check-in (resort use & meals for $20 p/p, check in at 4
3 pm: Resort check-in (rooms availability guaranteed by 4pm)
3- 5 p.m. Pickleball open play
5:30-6:15 pm: Pickleball 101 session with PB coach for brand new players/anyone interested
6:30 p.m. Happy Hour
7 p.m. Group Dinner
Friday and Saturday
9am – Noon: Pickleball Lessons & Game Time (5 reserved courts)
Noon – 4 pm: Free time to explore resort amenities and excursions

PB private/semi-private lessons and open play time (court walk-up available; courts pre-reserved by request only)

4 – 6 pm: Pickleball Lessons & Game Time (5 reserved courts)
7:00 pm: Optional group dinner on Friday; Awards dinner on Saturday
Sunday
Open Play in morning on own ($20/hour/court)
All-inclusive, family-friendly resort with a sports academy
Nestled on the St. Lucie River, 48 miles from Palm Beach International Airport (PBI), Sandpiper Bay All-Inclusive Trademark Collection by Wyndham is an active family resort with on-site dining, a rejuvenating spa, a luxurious pool, and sports academy with top-ranked coaches. When you want to get out and discover the area, you can go shopping at Treasure Coast Mall and explore nearby parks. Whether you're looking for an active vacation or a relaxing getaway, this all-inclusive resort has something for everyone.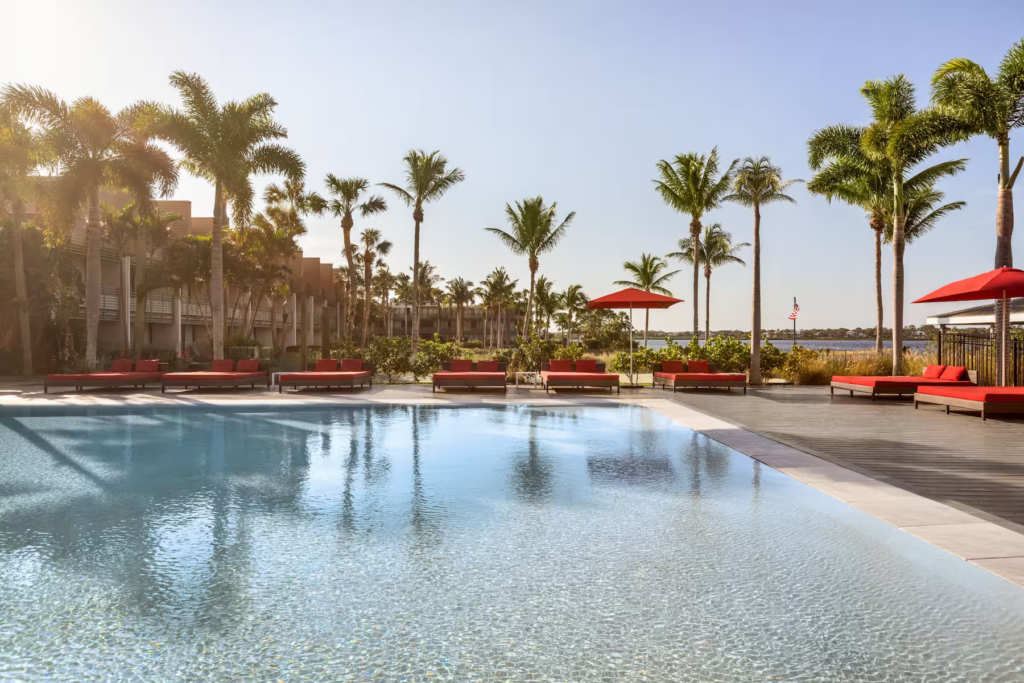 All-Inclusive Experiences
You'll love the sports facilities, pools, a spa, and on-site dining
Stay active with a gym, golf course, tennis courts, basketball and volleyball courts. Indulge in all-inclusive food and drinks, unwind in the lavish pool and spa, and keep connected with free WiFi and a business center. You'll also find a children's splash pad, Kids' Club, family pool, paid parking, live entertainment, laundry service, 24/7 front desk, and concierge. Each non-smoking guest room features a flat-screen HDTV, coffee/tea maker, mini-refrigerator, desk, safe, ironing amenities, bath products, hair dryer, and bottled water.
Spa
Experience our world-class spa to help you unwind, de-stress, and rejuvenate.
Our spa offers a diverse range of massages to help you relax. Each tailored to your needs and pressure adjusted to your preference. In addition to massages, our spa also offers a variety of facials.
Optional additional nights, pre and/or post will be quoted separately
TERMS & CONDITIONS:
Deposit – non-refundable at time of payment
Final Payment – September 1st

PRICING: Pickleball Players – all rooms based on double occupancy
$699/person for 3 nights ****($1217 total if single occupancy)
$125/person deposit due at time of booking ($250 per room)
$574 final payment due by September 1st
Non-Pickleball Players (single or double occupancy the same rate)
$575 p/person for 3 nights
$125/person deposit due at time of booking
$450 final payment due November by September 1st
Travel Protection
$69/person for full refund on covered reasons – refunds total for trip paid
$109/person for cash back on cancel for any reason for 75% of total – has to be added at deposit

RETREAT EXCLUSIONS:
Airfare
Ground Transfers (we can add these onto your trip cost, see details below)
Additional Pickleball Instruction – Private or Semi-Private (see details below)
Additional Pre or Post Hotel Nights (contact Desiree Jett for pricing)
Early arrival prior to 3pm: all meals & facility use – $20 p/person
Parking: free
Spa & Excursions
Pickleball Instruction Fee*
Melissa welcomes scheduling additional lessons with you or your small
group for the rates below:
Private Lessons: $60 p/hr
Semi-private: 2 players: $30 p/p, p/hr
Small Group Drills 3 players: $25 p/p, p/hr
Small Group Drills 4 players: $20 p/p, p/ 1.5 hrs
Court time only – no instruction $10 p/hr, p/p
Transfers
Carefree travel! Sandpiper Bay can pick you up at the airport of your choice and drive you
to the resort. Let Desiree know if you do not want to rent a car
Transfers to/from Palm Beach airport (60 min.)
Transfers to/from Fort Lauderdale airport (105 min.)
Transfer to/ from Miami airport (120 min.)
Transfer to/ from Orlando airport (120 min.)
Pickleball Pro/Coach:

Melissa Stuart

Melissa had a passion for many sports throughout my life. Tennis was my focus, spending my early years playing USTA tournaments in California and continued playing competitively through college and beyond. Once I started teaching elementary school and having a family, I put down my racquet for a while and began coaching youth soccer and whatever sports my children were involved in. Seven years ago, my husband's job brought us to McKinney, Texas. I continued teaching school and was fully involved with our boys' baseball and hockey schedules. Three and half years ago, I decided to go check out this thing called Pickleball. Within minutes of playing, I was hooked. I went and earned my PPR Instructor Certification. Teaching pickleball has combined my two passions of teaching and playing pickleball. I have been doing lessons for 9 months now. I recently retired from teaching after 36 years and I am now fully dedicated to sharing the fastest growing social, fun sport, Pickleball, with as many people as I can.